Dr. Thomas Heiser to retire after 33 years of service with Nebraska Orthopaedic & Sports Medicine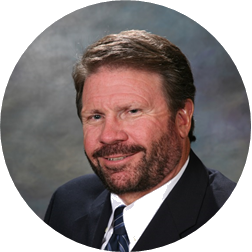 Thomas M. Heiser, MD has announced his upcoming retirement for the middle of September. After 33 years of service to the Lincoln and surrounding communities, Dr. Heiser has defined what orthopaedic health care means in this community. "We are honored and privileged to have worked with Dr. Heiser since the inception of Nebraska Orthopaedic and Sports Medicine in 1987," said partner and friend, Daniel Ripa, MD.
Not only is Dr. Heiser known for his orthopaedic achievements, he was a star on the football field – earning the nickname "Touchdown Tommy" during his years as a wingback with the Huskers from 1972-75. Following his undergraduate studies at the University of Nebraska-Lincoln, Dr. Heiser pursued his medical degree at the University of Nebraska Medical Center. His orthopaedic internships and residency were based in Kansas City, Kansas at the University of Kansas Medical Center, followed by an orthopaedic fellowship in Inglewood, California.
Dr. Heiser's illustrious career has been filled with accolades and a true dedication to the practice of orthopaedic medicine. During his tenure, Dr. Heiser has served on the Board of Directors for Madonna Rehabilitation Hospital, published multiple articles in the area of sports medicine, and presented on many topics in the field of orthopaedics. He is well-known for his support of professional education of future physicians and has been a long-time supporter of the University of Nebraska Medical Center (UNMC). In 2016, Dr. Heiser was honored by UNMC when the university renamed its strength and fitness center in his name.
A man of deep faith and perseverance, Dr. Heiser continued to practice medicine after suffering a life-threatening injury in 1990, sustaining a cervical spine fracture that resulted in quadriplegia. Although Dr. Heiser was no longer able to perform surgical operations, he dedicated himself to staying on top of the latest innovations in orthopaedic medicine and treating patients for non-operative conditions. The community has been enriched through his service and devotion to medicine, and he has been a true example of what it means to persist, to achieve, and to carry on.
Dr. Heiser is married to wife, Nancy, and has two sons, Nick and Mark. Dr. Heiser is looking forward to spending more time with his quickly growing grandchildren and family. Dr. Heiser's last day with Nebraska Orthopaedic and Sports Medicine, P.C. will be Friday, September 18, 2020.